Ghost Of The Doll is an ID website dedicated to toys of the 1980's and 1990's (plus a few 2000's thrown in for good measure)! Here you can reminisce whilst browsing through an extensive selection of toys, view commercials and chat in the forum.
TOYS ~ You can view toys Alphabeticlly, by Decade (1980's, 1990's and 2000's) by Type (dolls organised by size and theme, and plush/plastic animals organised by species), as well as grouped by Manufacturer, which also includes a brief historical timeline of the main toy makers. If you are interested in a toy which isn't listed here yet please visit my forum and go to the New Toy Sections board to see if it's in there!
FORUM ~ The forum has boards dedicated to Toy ID Help, so if you need help working out what something is, this is the place to go! Amongst others, there are also boards for Sales/Wants as well as General Toy Discussion. You'll also find a board dedicated to New Toy Sections, where members can post images and information of toys not currently featured on GOTD, plus a board for adding to the Current Toy Sections too.
YOUTUBE ~ Subscribe to my YouTube channel to view toy commercials, with many thanks to all the YouTube users who spent their time editing and uploading them to the internet in the first place!
UPDATES ~ The updates page contains information on new and updated toy sections, as well as any changes I make to the website on whole.
LINKS ~ The links page is a compellation of sites I've used to research various toys as well as links forum members have submitted. There are also links to various sale sites, other toy forums and toy manufacturers websites.
Featured Toy!
My Little Pony was produced in Japan by Takara in 1985, and looked nothing like the Hasbro version! The line was called "My Little Pony - Stylish Pony" and they were a small series of upright poseable pony figures (adults and babies) with large heads and brushable hair. There were also fashions and playsets. All items are highly sought after.
***Find out more about TAKARA's MY LITTLE PONY here!***
QUICK LINKS> Find My Little Pony on eBay.com
or eBay.co.uk
!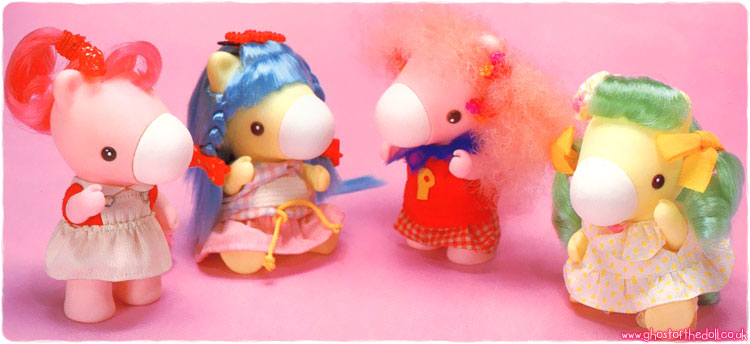 My LIttle POny For Sale
Top 20 Toys
For Sale