Baby Scents
"Candy scented poseable baby dolls."
Baby Scents were produced by Toys 'n Things (aka Toy Things) in early 1990's.
The company released several sets of scented (and non-scented) dolls from 1991 to 1995, when Strawberry Shortcake was re-issued, and then again in 2000. In fact, the dolls were so similar to SSC that they often get mistaken for them now.
There are also a few as yet unknown TNT dolls, maybe you can help identify them?
Image on this page thanks to eBay
sellers shop4atoy
and purplemagicdog
!
QUICK LINKS> Find Baby Scents etc. on eBay.com
or eBay.co.uk
!
Baby Scents
There were five Baby Scents dolls. They had colourful, short hair and each one came with a playset.
Push Chair
High Chair
Rocking Horse
Bath Tub
Cot
Purple Hair c/w Push Chair
Blond Hair c/w Bath Tub
Yellow Hair c/w Rocking Horse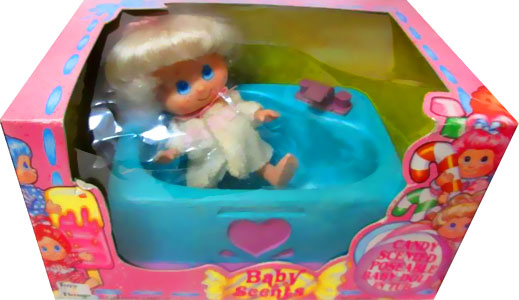 The pink and yellow haired loose dolls below are not be dressed correctly.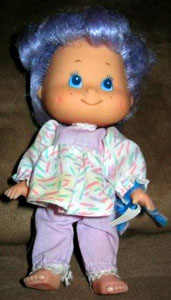 Comments