Baby Talk :: Dolls
"The most life like baby doll in the world!"
Baby Talk was produced by Galoob in 1985-87 and were three large 18 inch interactive talking dolls. They has plastic heads and limbs, and cloth bodies. When the doll spoke, its eyes and mouth also moved.
Images on this page thanks to Pablo, and eBay
sellers eularizap
, cheekycharley, john76362012, pfantasticpfinds2, murkat81958n1q, cornettuniquetreasures
and aher-andr
!
View all Baby Talk on eBay.com
or eBay.co.uk
!
Girl Dolls
"Baby Talk doll provides the opportunity for children to interact and always receive a response. She offers real life talk-play situations, thus creating real life emulation. When she is fed you may hear, "Mmmm, that was good." However, if the bottle is removed too quickly you'll hear, "Feed me." Watch her drink. You'll be amazed at the real sucking movement and sound. This precious baby will give a talking response to movements, like being picked up or turned over. If it is the end of playtime, a child may lay the doll on his back. Soon she'll hear, "Night, nigh, Mommy." And after several moments the doll will automatically turn off. Sculpted totally realistically, Baby Talk doll will endear herself forever. She is irresistible. So say something sweet and give her a great big hug."
There were two girl dolls produced. The first doll was the white baby, then the following year a black version was added as was a boy version.
Baby Talk needed a lot of battery power to work (4 "C" batteries and 2 "AA" batteries). Sse had sixteen basic phrases in about 100 combinations, including:
"Mommy I love you."
"Mommy I'm sleepy."
"Peekaboo."
"Mommy turn me over."
"I like to be picked up."
"Hug me."
"Let's play."
"Feed me, feed me."
She came with romper suit, booties, bib, ribbons in her hair, a bottle, and a booklet.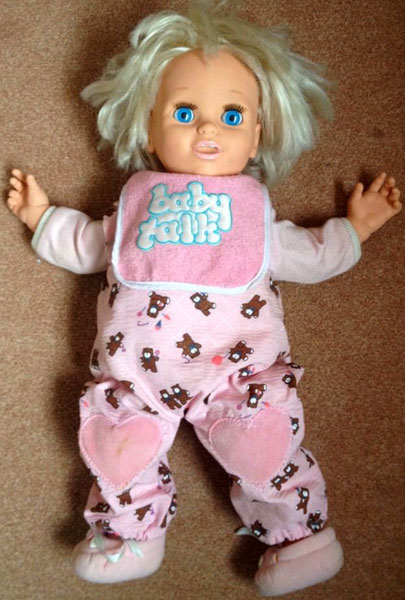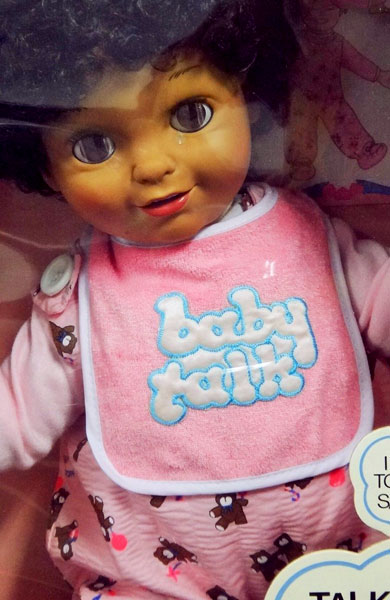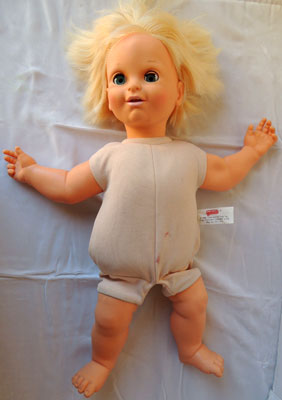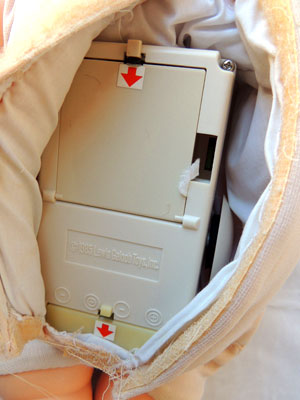 Booklet, bottle and guarantee.
First and second series packaging.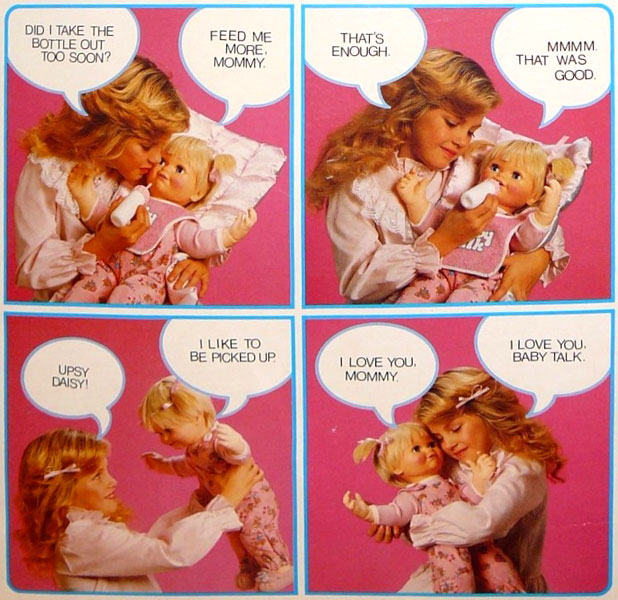 "Adorable, magical Baby Talk captures a little girl's wonder and imagination. She "knows" just what to say - and when she says it, her mouth moves and her eyes blink - just like a real baby. She asks to be fed, loved, played with  in 16 different phrases and hundreds of combinations. Baby Talk comes with her own feeding bottle and "Bringing Up Baby Talk" book to help little mommies along."
These images are from the 1986, 1987 & 1989 Galoob catalogues.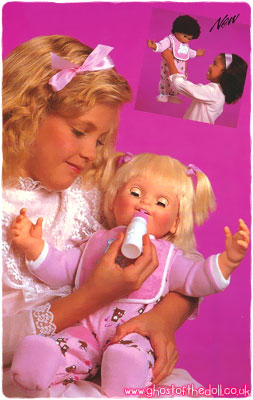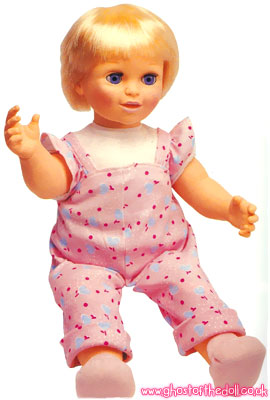 Boy Doll
"The most lifelike ever! With living eye and mouth movements, voice and sound!"
There was one boy doll produced in 1986, and was one of the few baby dolls to be marketed specifically for boys. He came with tracksuit top and bottoms, trainers, bottle and booklet (same as girl dolls). His phrases varied a little from the girl dolls, but not by much.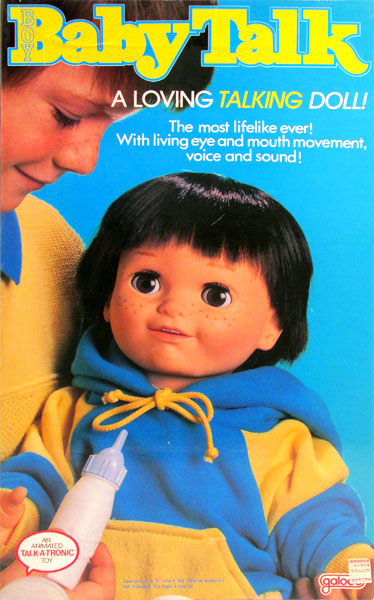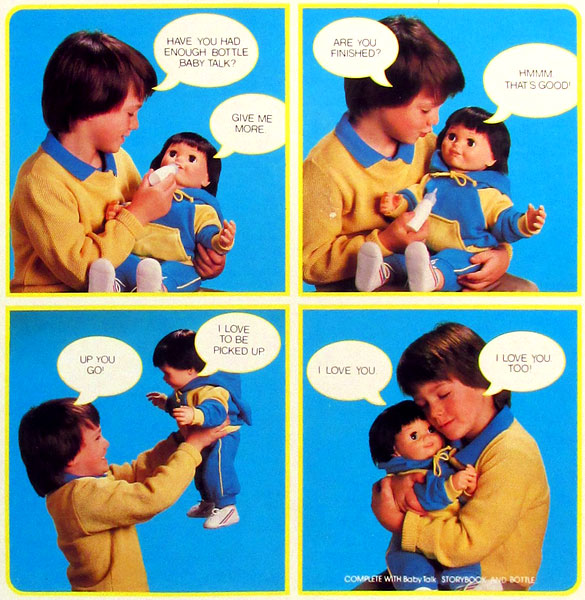 Baby Talk II [1993]
"The smart baby doll that responds to her Mommy!"
The 1993 Galoob catalogue featured a new and improved Baby Talk doll, although I have as yet to find any images of her besides the catalogue. There were also three new outfits featured (see Accessories). She looks like the original doll but with wavy hair and a new floral romper suit. She could also say over three times as many phrases as the original doll.
High-quality voice - sounds like a real child.

Baby Talk II says over 40 different phrases with realistic eye and mouth movement.

She recognises her Mommy's voice and responds to her.

Tickle her and she giggles.

Baby Talk II says, "Hi Mommy," when you switch her on.

She says, "I'm sleepy," when no one plays with her. Then she says, "Nite, nite," and shuts off automatically.

She responds to sound or when you move her.

She makes a "sucking sound when you feed her.

Includes removable outfit and baby bottle.
For Sale
View all Baby Talk on eBay.com
or eBay.co.uk
!