Charmin' Farm Friends were produced by Meritus in 1993-94, and was a very small series of four flocked poseable barnyard animals and little figures.
Images on this page thanks to Veni Vidi Dolli, zap18 and LeahLPS!
QUICK LINKS> Find Charmin' Farm Friends on eBay.com
or eBay.co.uk
!
Fuzzimals
"Charmin' Farm Friends are sweet, loveable farm animals who became good friends many years ago. They came together during the huge rainstorms that came to Pumpkin Patch City. They now play and go to school together. Ellie May Choppe (lamb), PattyJo Skweel (pig), Annabelle Moo (cow) & Hillary Jean Nay (horse) are very charming. They have pretty hair to style and they love to be loved by little children like you. They're just charmin'... Charmin' Farm Friends!"
There were four Fuzzimals produced (pig, cow, lamb and pony), but seem to have been colour variations too. They had flocked bodies and brushable hair in non-realistic colours, and had jointed legs and head. Each one had a molded on neck scarf and came with a comb. They also had gems either on their scarves or under their ears.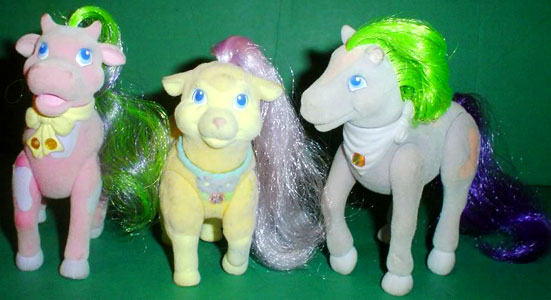 Annabelle Moo, Ellie May Choppe & Hillary Jean Nay
I've found three variations of PattyJo Skweel.
For Sale
Comments