"Sweet smelling world of muffin magic!"
Cherry Merry Muffin were produced in 1988-1990 by Mattel and were 6.5 inches high dolls, scented like their names (like Strawberry Shortcake). Along with the dolls and their accessories, there were also playsets, fashion wear and miniatures made.
Images on this page thanks to Lulu Berlu and eBay sellers den268, getyourown67
, tickle70
, budc1919
, jamicarebearcollector
, tthelenc100
& adolladaystl
!
QUICK LINKS> Find Cherry Merry Muffin on eBay.com
or eBay.co.uk
!
2nd Series Playsets
There were seven food themed playsets produced for the full sized the Cherry Merry Muffin dolls: four in the 1st series and three more in the 2nd series. There was also one unproduced playset due for release with the 3rd series but it never happened.
There were three playsets produced in the 2nd series (1989/90):
Cherry Surprise Bake Shop
"For Cherry Merry Muffin, the hottest spot is a birthday cake that becomes a bake shop! It's where all the sweetest smelling dolls decorate, buy and bake! 3-layer cake becomes shelves that stack lots of goodies for sale. Transforming accessories provide hours of play shopping. baking, and cake decorating fun! Over 20 pieces!"
There were twenty one pieces in this playset. The packaging is dated 1989, but the set itself wasn't released until spring 1990 in the US (according to back packaging).
There were colour variations of the little accessories.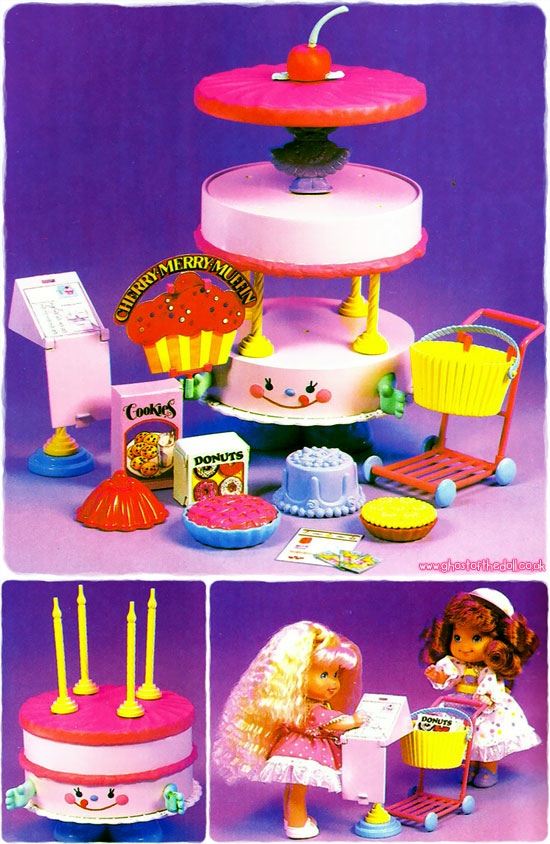 Pastry Cafe
"It's a magical pie that turns into a cafe table in the wink of an eye! And for extra special treats, cupcake bottoms change into seats! This cheery cherry cafe has over 20 play food pieces and is the perfect place for Cherry Merry Muffin doll to meet her friends to party and eat treats. Includes pie stand/table, pie/umbrella, mixing spoon/umbrella pole, cupcake bottoms/seats, cupcake tops, doll placemats, serving pieces, play food pieces, and label sheet."
There were twenty one pieces in this playset, and were colour variations of the smaller accessories. I've also come across different coloured "feet" under the pie/table.
This playset was also sold as a Gift Set with a 2nd series Cherry doll (including her accessories).
Wedding Cake 'n Party
"A cake that turns into measuring cups to help girls pretend to bake and decorate their dream of a wedding cake! When the baking is done girls can pretend Cherry Merry Muffin is giving a wedding reception. They just turn the cups upside down once more and there's a table with chairs for sweet-smelling friends galore! This delightful set has 4 choices of decorations to make the cake look just right! 14 baking, decorating, and party play pieces include 3-layer cake/measuring cups/table set, cake decorations, serving pieces, pretend cake slices, and label sheet."
There were colour variations of the little accessories.
Wedding Cake 'n Party Gift Set
"Here comes the Cherry Merry Muffin bride! Dressed in her beautiful wedding gown she's ready to "cut" her cake and then celebrate her wedding at her reception party! Wedding cake is really three toys in one! It's a pretend cake to decorate, a set of measuring cups for "baking," and a table with chairs for lots of party play! Includes doll, wedding dress fashion, and Wedding Cake 'n Party playset."
This playset was also sold as a Gift Set with a 2nd series Cherry doll wearing the Merry Wedding fashion outfit. It's just a shame poor Cherry didn't have a groom!
Unproduced Playset 1990
"Mixes yummy ice cream treats for girls, transforms into an Ice Cream Shop plyset for Cherry Merry Muffin dolls! Blender mixes malts, shakes, or exciting ice cream drinks. Straw holder becomes a doll-size table, and plastic glasses become 4 doll-size chairs. Also includes: Baskin-Robbins Hot Fudge Topping, Baskin-Robbins recipe card, 2 play cupcakes, 4 placemats, and coupon for $1.00 off a quart of handpicked Baskin-Robbins ice cream."
There was one playset featured in the 1990 Mattel catalogue, and also on some back packaging, which never made it into the shop. It was the Milkshake Magic Blender.
This is the illustration included on the Sundae Slumber set from 1990 (see Fashions), which also included the series 3 dolls. A sticker at the bottom stated that the blender, table and heart-shaped cups were not available (boo!).
For Sale
Menu
Comments