"Clip me on for fashion fun!"
Fluffy Surprise were produced by Vivid Imaginations in 1998. They were a short lived series of animals with feather boa type trims. Each adult character came holding a hoop (through a hole in one of their paws, with a split in the middle to remove it) which could be looped onto things. There were also various babies.
Fluffy Surprise were sold in the UK and other parts of Europe under varying names:
UK & parts of Europe: Fluffy Surprise
Italy: Fru Fru Lungacoda (Fluffy Long Tail)
Images on this page thanks to sauerkirschmarmelade, Spiral Blog, vanillascoop, miss_tuneful, Valeria, Louise P, Nappercasper, snaky, Jana, and eBay
sellers Fifis-Fleamarket, kallum1999
, funky_fifi
and questo.ce.l.avevo.shop
!
QUICK LINKS> Find Fluffy Surprise on eBay.com
or eBay.co.uk
!
Original
"Each Fluffy Surprise comes with a special surprise that you can wear! Fluffy Surprise loves being with you, attach their clips to your purse or to your backpack, and they'll follow you everywhere!"
Back packaging shows six individual characters, and each one came with a surprise accessory inside their bases (accessible via a flap). There was a bear, a rabbit, two cats and two dogs. Along with the colours on the back packaging, I have also found colour variations. Three of these moulds were used for the Surprise Fashions sets. All colour variations for the adults found are shown below for ease of comparison.
The surprise gift was either a friendship bracelet, necklace or hair bobble.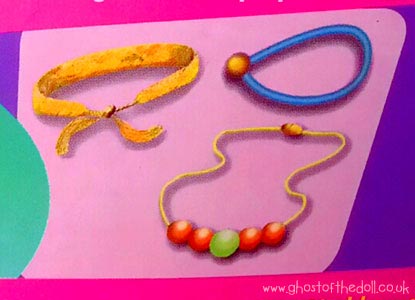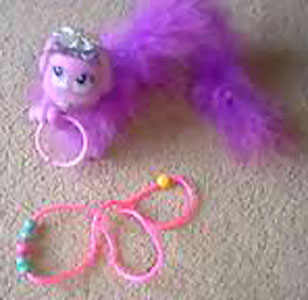 Cats
There were two cats produced in this set with different poses. The pink mould was also used for the Hair Fashions cat.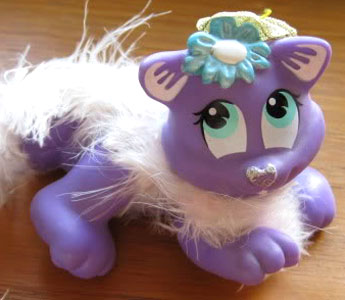 Dogs
There were two dogs produced in this set with different poses. The purple mould was also used for the white Jewellery Fashions dog.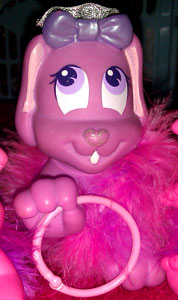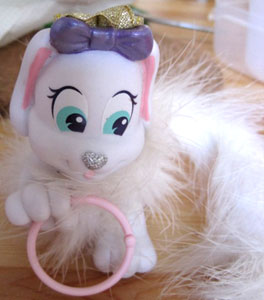 Bears
This pose was also used for the Scribble Fashions pink bear. I've also found a green bear and an orange bear.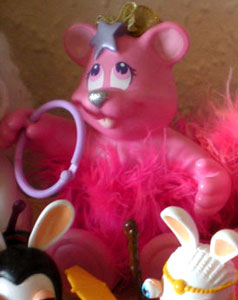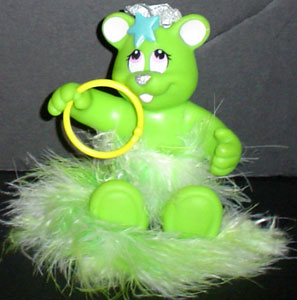 Rabbits
I've not found an image of the white rabbit yet, but have found one of a pink one!
Packaging
| | |
| --- | --- |
| | |
| UK/Euro Packaging | Italian Packaging |
The packaging back shows most of the toys available. I think all types are show, just not the colour variations (but I may be wrong).
In Italy, Fluffy Surprise was produced with Gig. The six individual characters also had names.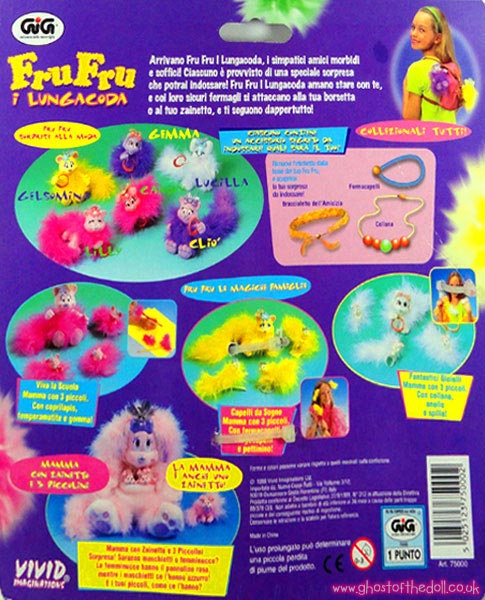 Other Characters
It's possible these are knock-offs as they have no manufacturing marks.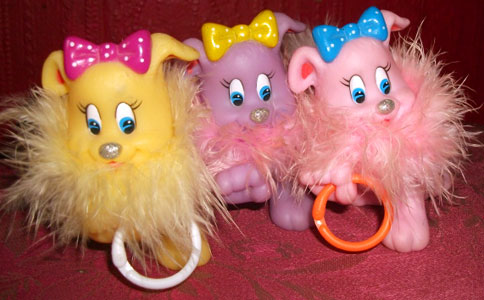 For Sale
Menu
Comments