"It's a party full of fun surprises!"
Miss Party Surprise were produced by Toy Biz in 1999-2002. They were dolls with large plastic skirts, which when opened turned into a playset full of accessories.
Images on this page thanks to Knot a Toy, Spiral Toy, Flickr member Piper Reaper, Etsy seller That's So 90s, Amazon
seller chuckntamie
and various eBay
sellers!
QUICK LINKS> Find Miss Party Surprise on eBay.com
or eBay.co.uk
!
Original Dolls
There were several different sets produced in 1999, and most, if no all, were available in both black and white doll versions. All dolls had molded on tops, which differed for each playset. Some were scented.
The later dolls produced in 2002 re-used some of the older moulds, which can be seen side by side for comparison on the 2002 Dolls page (towards the bottom).
Baby Party
Baby Party came with a doll named Jenny and was baby powder scented. This playset came with:
Baby boy and baby girl
Tub/diaper station
Duck and teddy
Lotion and powder bottles
Toy chest/high chair
Building blocks (with letters on)
which could be turned into a bracelet to wear
Tiara for doll, or ring to wear
Rocking horse
Cradle/carriage with clip-on mobile
Comb
Baby bottle and rattle
Blanket
Doll stand
Beach Party
Beach Party came with a doll named Sandy with colour-change hair. This playset came with:
Pail and shovel
Sand castle
Cooler and soda bottles
Barbeque and hotdogs
Table
Volleyball net and ball
Windsurf
Whale float
Comb
Sun block
Beach ball/earrings
Radio
Sarong, hat, sunglasses and beach bag
Tiara/ring
Splash the crab and Summer the spaniel
Umbrella and lounge chair
Towel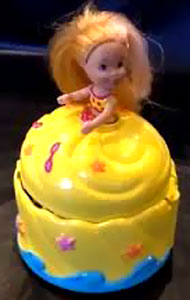 Bowling Party
Bowling Party came with a doll named Tina. This playset came with:
Bowling alley, pins and balls
Juke box
Pinball machines
Food bar with chairs
Pizza and other small items
Bowling ball ring
Comb
Puppy?
Trophy necklace
Dance Party
Dance Party came with a doll named Kristy. This playset came with:
Tap Platform
Piano
Top hat/piano stool and cane
Gym Bag
Two dance costumes
Swan bracelet
Comb
Stage with two different backgrounds
Mirror with gem earrings
Ponytail plug
Vase with bouquet
Practice barre and practice matt
Harp
Gymnastics Party
Gymnastics Party came with a doll named Jeanie. This playset came with:
High bar
Balance beam
Gold medal/glitter gel
Trampoline
Pom Poms
Cat
Megaphone
Pommel Horse
Flowers
Hair Accessories
Batons
Trick Wand
Comb
Trophy
Ice Cream Party
Ice Cream Party came with a doll named Katie and was vanilla ice cream scented. This playset came with:
Working blender
Cake, cake cover and cake dish
Tiara/ring
Radio
Comb
Two soda floats, bowls and spoons
Stools with earring tops
Table and two chairs
Flip-top freezer with ice cream scoops and cones
(the scoops were also beads which could be turned into a bracelet to wear)
Doll stand
Make-Up Party
Make-Up Party came with a doll named Molly who had colour-change hair. This playset came with:
Brush and comb
Perfume bottle
Hair bands
Colour-change clip-on nails (to wear)
Stools with ponytail tops (to wear)
Stool/locket (to wear)
Shampoo bottle
Hair dryer
Barrettes and bobby pins (for doll)
Colour-change ponytail
Stickers
Manicure table/nail box
Playground Party
Playground Party came with a doll named Niki. This playset came with:
Swing
Slide
Climbing frame
Bench
Merry-go-round (ponies were also necklace charms)
Comb
Bag
Kite/pin (to wear)
In-line skating path
Side walk
Skating helmet
Banana
Juice box
Lamppost/marker with ring light
Pet monkey
Pet Party
Pet Party came with a doll named Patty. This playset came with:
Pet Carrier / Stamp Pad
Runway for Pets
Comb
Mirror
Blowdryer
Food Dish
Doll Stand
Belt / Ring (to wear)
Gold Cups (x4, doubled as charms)
Stickers
Camera with Film
Kitten Jungle Gym
Yarn with Magnetic Feature
Kittens (x2)
Climbing Post
Swing
Jump Through hoop
Puppies (x2)
Bone with Magnetic Feature
Puppy Trick Counter
Princess Party
Princess Party came with a doll named Penny. This playset came with:
Magic Mirror
Attachable Braid
Frog Stamper
Pillow/Stamp Pad
Crown/Rings
Crown Bobby Pin
Sceptre
Unicorn
Carriage/Tower
Princess Hat & Cape (for doll)
Chest
Jewels
Winter Fun Party
Winter Fun Party came with a doll named Cindy. This playset came with:
Snowboard
Snow Slope
Tiara/Ring
Bouquet
Snowballs
Medal/Ponytail Holder
Sammy the St. Bernard
Fireplace
Snowman/Necklace
Skis
Ice Skates
Tutu
Vest
Sled
Ice Rink
For Sale
Comments