My Little Pony was also produced in Japan by Takara in 1985, and looked nothing like the Hasbro version! The line was called "My Little Pony - Stylish Pony" and they were a small series of upright poseable pony figures (adults and babies) with large heads and brushable hair. There were also fashions and playsets. All items are highly sought after.
There were many "fakie" babies produced after Takara stopped production of varying quality.
Images on this page thanks to many different sellers on various sales sites! Catalogue images thanks to Pranceatron! Very useful info gathered from My Little Wiki!
QUICK LINKS> Find My Little Pony on eBay.com
or eBay.co.uk
!
Playsets
There were two playsets for the babies (which both came with Lily & Popo) and at least one playset for the adult ponies.
Primping House / Dress Up House
This playset came with Pinky, plus a brush, comb, visor, hat, necklace, bracelet and various hair clips.
Baby Carriage / Baby Wagon
This set came with the two baby ponies (Lily & Popo), comb, hairclip and bottle. The following year (1986) Palau Toys in Spain took over the production of the baby ponies and this playset. The line was called "Mis caballitos lindos" (My Cute Little Horses). The baby ponies produced by Palau (as well as at least one other company) were more varied and easier to find than the Takara originals. See the Fakies page for more details.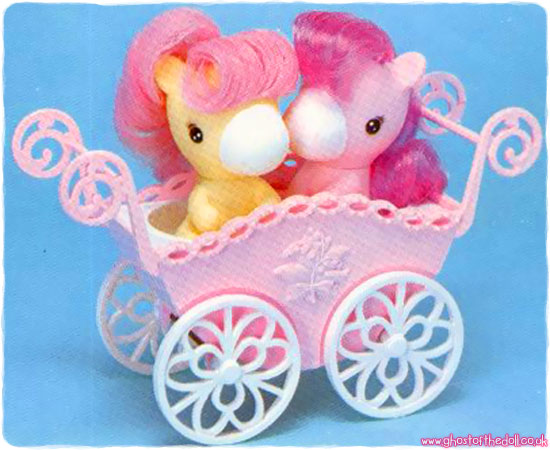 Bubble Bath
This set came with the two baby ponies (Lily & Popo, who had drain holes in their bottom), a bath and other little accessories.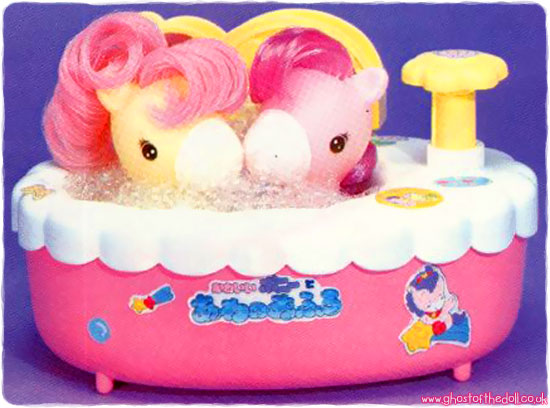 Pony Style House
Shown in the 1985 Takara catalogue. Was this playset ever produced?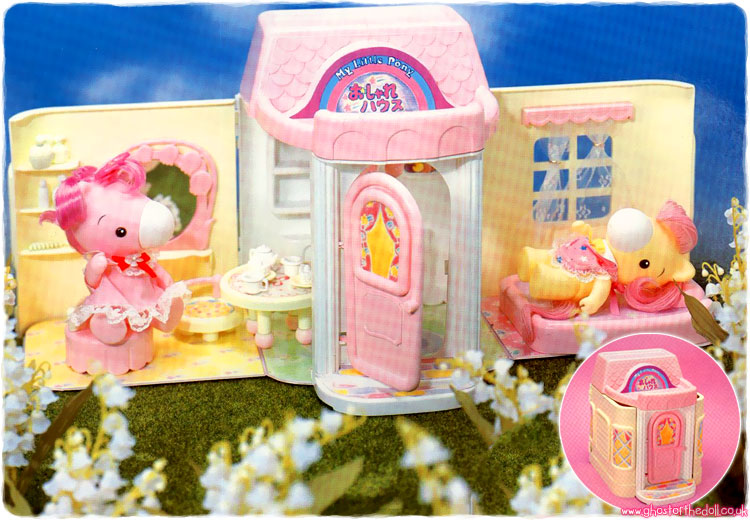 For Sale
Comments