"Squeeze their tummies! Watch their funny noses!"
Nosy Bears were produced by Playskool (and Those Characters from Cleveland) from 1987 to the early 90's. They were plush teddies (plus a few bunnies) with plastic globes on their noses. When their bellies were squeezed various items in their noses would move about from the air pumped in. The smaller Shaker Nosy Bears and Nosy Bunnies had snowglobe type noses which were filled with a liquid. There were also a few accessories made to go along side the series.
Images from Nile Perch, Quilt Papins or found on eBay
including seller thegudz
!
QUICK LINKS> Find Nosy Bears on eBay.com
or eBay.co.uk
!
Nosy Bears
"Here come those colourful little creatures called Nosy Bears! Each Nosy Bear has a special way of putting a smile on everyone's face! All they need is you to share in their fun! Just squeeze their tummies and watch their noses go crazy with excitement! Nosy Bears are so adorable that once you've squeezed one, you'll want to squeeze them all! Make friends with a Nosy Bear today and share the fun! "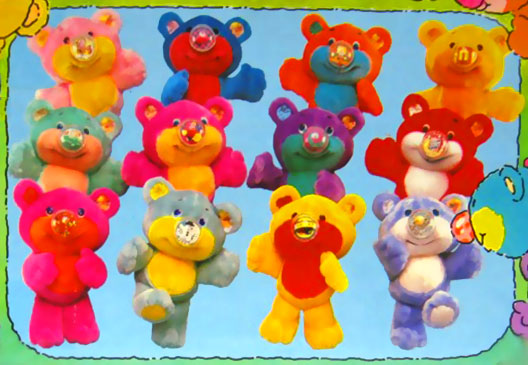 "Colourful, loveable bears share laughter and fun with everyone!"
There were twelve Nosy Bears produced, which were 11 inches high.
Chexter - Checkered background with inflating pink balloon
Dizzy - Spinning pink & white spiral
Flybye - Loose butterfly
Funsy - Balloons background with inflating red balloon
Gumlet - Loose gumballs with raised bowl to put them in
Guppy - Ocean foreground with spinning dolphin behind
Hotrod - Spinning racing car and bridge in foreground
Popper - Loose popcorn with raised carton to put them in
Rumpus - Basketball and net to get it in
Snowplay - Loose snow and raised snowman
Surprise - Opening "Jack-in-the-Box"
Twinkle - Loose glittery stars and raised Saturn planet
| | | |
| --- | --- | --- |
| | | |
| Snowplay | Surprise | Twinkle |
Snowplay
Surprise
Twinkle
For Sale
Comments