"You magically turn rocks to jewels... and then make your own jewellery!"
Treasure Rocks were produced by Hasbro in 1993-95. They were various sets of jewellery which featured "magic" rocks, which when place in water would dissolve to reveal beautiful gems!
They were sold in the US, UK and other parts of Europe under varying names:
UK & US: Treasure Rocks
France: Bijoux Magiques
Spain: Rocas Magicas
Germany and Netherlands: Magic Rocks
Images on this page thanks to Prancetron!
QUICK LINKS> Find Treasure Rocks on eBay.com
or eBay.co.uk
!
Unproduced Sets
There were several sets shown in the 1996 Hasbro pre-toy fair catalogue, and I'm pretty sure they were produced.
Lots Of Rocks Refills
A refill set was featured, which included:
6 Classic Gems
4 Glitter Gems
14 Mini Gems
Rocks and RIngs - Etched Gems / Glitter Gems
The original Rocks and Rings set was also advertised as an Etched Gems set and a Glitter Gem.
The Etched set included 8 classic gems, 4 etched gems and 2 rings. The Glitter set included 12 glitter gems and 2 rings.
| | |
| --- | --- |
| | |
| Rocks and Rings - Etched Gems | Rocks and Rings - Glitter Gems |
Mini Collection - Mini Gem Tricks
Disappearing Bracelet
Transforming Rings
Vanishing Earrings
Mini Collection - Mini Gem Surprise
"Kids can reveal a beautiful locket filled with 4, 5 or 6 dazzling Mini Gems! Assortment includes Heart, Diamond and Oval Lockets! Includes Treasure Rock Locket (with Mini Gems inside), locket with setting, Necklace, ribbon and 8 stick-on earrings."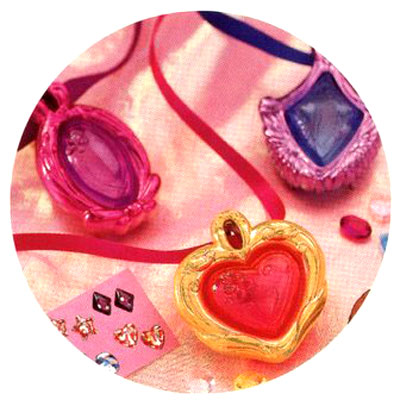 Scented Collection - Scented Surprise
"Scent-sational collection includes 6 bottle of perfume coated with glitter! Add water, and the glitter falls to reveal a surprise character in the bottle! Each set includes bottle of perfume (in one of six scents), sticker and parts to make a ring."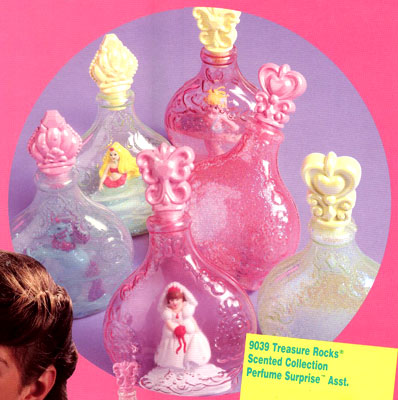 Sparkle Scope
"Turn rocks to jewels, then watch them dazzle and dance in the Sparkle Scope! Kids can create all kinds of colourful patterns! Features sparkle ring and special mini gems. Includes Sparkle Scope, container/revealer, 10 Treasure Rocks, 4 revealed gems, special sparkle jewel, and parts to make a ring."
For Sale
Comments