Peppermint Rose :: Dolls
"A magical land where you make floral and candy scented perfume!"
Peppermint Rose were produced by Mattel in 1992. They were a series of scented dolls very similar to Lady Lovely Locks. There was also fashions, animal friends as well as related merchandise and an animated video.
Peppermint Rose was sold in the US/UK and in Europe under different names:
USA/UK: Peppermint Rose
Europe: Les Belles de Parfum
[eBay links are sponsored]
Images on this page thanks to Eden Eye, nhtpirate and eBay sellers banheier, beyora usa and Dennis Collectibles Dolls And Toys!
Dolls
"Discover a world of sweet scent-sations! Now girls can create candy-floral perfume they can wear! Two scented ways to play! Each 9 inch candy flower-themed doll comes with 12 floral scented and 12 candy scented Perfume Petals. Girls dissolve Perfume Petals in water to make real fragrance combinations they bottle and wear! Dolls join in the fragrant fun with 2 skirts - one floral scented and one candy scented. Girls layer both skirt looks to make luscious scent combinations. Peppermint Rose, Lemon Kiss Lily, Vanilla Daisy, and Merry Mint Violet dolls all have lovely long hair for lots of hair play, too! Dolls also include: basket to mix perfume, perfume bottle, doll fashion, hat, shoes."
There were four dolls produced. Each one came with two fragrances, a rose comb, removable hat and a pair of shoes. The two fragrances were differently scented like the two parts of their names. For instance, Vanilla Daisy's box reads:
"Magically make a Vanilla or Daisy perfume. Wear both for a floral and candy scent-sation!"
The European dolls were named using only the floral part of their full names: Rose, Lily, Daisy and Violet.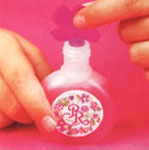 | | |
| --- | --- |
| | |
| Peppermint Rose | Lemon Kiss Lily |
| | |
| --- | --- |
| | |
| Merry Mint Violet | Vanilla Daisy |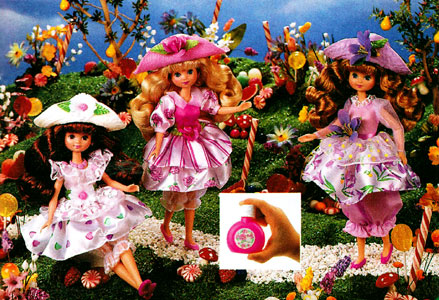 For Sale