Popcorn Pretties :: Dolls
"She pops from a kernel! Drop it to pop it! Again and again! It really pops!"
Popcorn Pretties were produced by Mattel in 1991. They were a set of dolls similar to Cupcakes dolls in that they each wore a hat and their skirts turned inside out so that they could turn into popcorn (rather than cupcakes). When thrown onto the ground their skirts would "pop" back the right way again and turn back into a doll.
[eBay links are sponsored]
Images on this page thanks to Lara & Jana, Eden Eye or found on eBay, with thanks to various sellers!
Dolls
"When the Sun is in play and the Moon can't be found, you might just hear a new popping sound! Just look for the kernel that's not like the rest. You'll find Popcorn Pretties - they're really the best! It's inside the kernels these lovelies reside. Drop it to pop it - they're hiding inside! Magical small scented dolls that "bounce" into play with a -POP!" Eight colourful pretend popcorn kernels hide adorable dolls When girls bounce them, the plastic popcorn kernd shapes change into small dolls! Girls will want to collect all of the fun scented flavours. Each doll comes with a fabric skirt, hat. and hair for small doll play."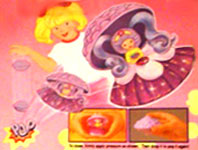 There were eight Popcorn Pretties. Each one came with a hat and removable over-skirt. Each doll was scented like her name.
| | | | |
| --- | --- | --- | --- |
| | | | |
| Blueberry Betty | Miss Candy Apple | Fancy Fruity / Cutie Fruiti | Grape Jily |
| | | | |
| --- | --- | --- | --- |
| | | [no image] | |
| Lily Lemon | Lotta Chocolate | Patti Peach | Sherry Cherry |
For Sale