"Just open the doors to the Busy Bear land and find a wonderful land you can hold in your hand."
Busy Bears of Hippity Hollow were produced by Tomy in 1982. A similar set was released in Brazil called GulliverLandia, which used the same house moulds and bodies, but with different animal heads, and in Spain a series called Geyperland was released with little girl dolls rather than animals. Both these sets had far more peices than the US series. Japan had a set called Piccolo, which also had dolls rather than animals.
All images on this page thanks to Emery!
QUICK LINKS> Find Busy Bears on eBay.com
or Bay.co.uk
!
Busy Bears of Hippity Hollow Houses
There were eight playsets produced, each one came with a bear. There were four smaller playsets and four larger playsets.
Alarm Clock
The Honey Can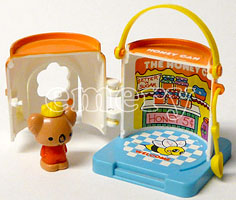 Tea Pot
Telephone House
Television & Stereo Shop
Coffee Cafe
Juicer
My Home
For Sale