"A lovely little mermaid you can play with in or out of water!"
Sweet Sea was produced by Tomy in 1985. It was a very short lived sea themed series which included one doll, four friends, fashion, cosmetic accessories by Avon, jewellery and a 30-min animated video.
Images on this page thanks to Kerry and eBay
seller Jaelliott187 Collectibles
!
QUICK LINKS> Find Sweet Sea on eBay.com
, eBay.co.uk
or Amazon.com
!
Dolls
"Sweet Sea comes with mirrored sprinkling can, shimmering tube top, pearl necklace, decorative hair comb and Sea Star the inflatable seahorse!"
There was one doll produced called Sweet Sea. She was 12 inches high with jointed neck, shoulders and waist.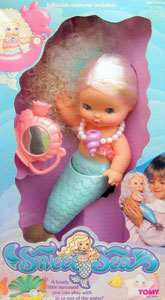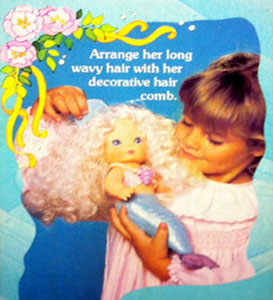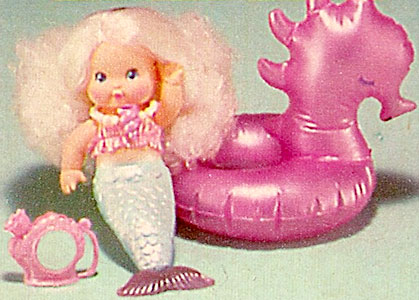 For Sale
Comments