About :: Ghost Of The Doll
My name is Sarah and I live in England. I studied Fine Art at University in the mid 1990's and it was during this time I started collecting old dolls and toys from charity shops and car boot sales. I used them for inspiration and as materials for my work, but after a while I just enjoyed the thrill of rummaging around stalls and shops on the look out for another bargain! It wasn't long until I had so many old toys I didn't know what to do with them, and by 2003 I realised it was time to start selling them on.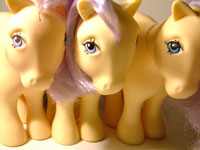 After doing some research on eBay I realised that I had quite a little goldmine. I spent several fun filled hours (ok, days) washing them and brushing their hair ready to be photographed, and many of the non brand baby dolls went back to the charity shops. Then came the hard part; working out what they all were and their individual names (from watching eBay I noticed that properly labeled toys sold much better). As a child I had lots and lots of Sindy dolls, a few Care Bears and loads of non brand soft toys (plushies), so although a lot of the toys I had accumulated were familiar I had never actually owned them as a child (I hated My Little Ponies and thought Strawberry Shortcake dolls were weird!).
Sponsored Links
Check out my TOY SALES on eBay!
So, where to start id-ing all my toys? I soon realised that although there were (and still are) some excellent sites for a few of the mainline toys, many of my toys were very hard to ID (if not almost impossible) and there were no good all round visual websites for 1980's toys. Most of my research came from scouring eBay sales and personal collection pages, and I accumulated a huge amount of data which I began organising and filing on my PC. I'd already began to teach myself a bit of web design in order to put together a website for my art work, so I began putting together some pages for Care Bears, Keypers, Rainbow Brite and Wuzzles. The prospect of putting together pages for My Little Pony was a bit daunting (I had collected hundreds of the little buggers!), but the more research I did the more interested I became in adding them in to my growing website (especially as many of them were UK ponies which had less information available on the internet than the US ones). The more toys I added to my website the more I began to realise that there must be a lot of other sellers and collectors out there facing the same ID problems as I was. And so Ghost Of The Doll was born!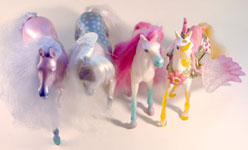 Ghost Of The Doll website went live in September 2003 with a list of about 10 or so toys in it, adding more as I sold off my toys and worked out what they were. It was sad to see my toy collection slowly disappearing to various parts of the world, but the more toys I added to my website the more I realised that I had stumbled into another way of collecting toys which took up far less space and was a bit arty too! I started researching toys that I had never owned, and in most cases had never come across before either. In 2006, as the website grew, I decided to add in a new section to help ID other peoples toys. By the beginning of 2010 I was getting so many emails requesting help that the only way forwards was to open a forum, which turned out to also be an excellent place for collectors to talk and share their own collections with like minded people!
Ghost Of The Doll has now expanded to included 1990's toys, and by the looks of it I'll be adding in a few toys from 2000 upwards too, including reissued 1980's toys. I really enjoy working on this project and put a lot of time and effort into getting it accurate and to look good too. I hope that it will keep growing for many years to come!
So, what about photo's of my once vast and varied toy collection? Well, although I have many photos of all the individual toys I used to own, unfortunately I no longer have any of them "displayed" in my house. I only have one photo session of them as a group (a selection anyway), taken in 2003. They made a very colourful procession! Before I stored my toys in my art studio I used to have them lined up along all the walls on little shelves and down the corridor of my house. If fact, they encroached on every living space available! There were also lots of baby dolls peeking out of the shadows and a large selection of chiming toys which used to start up randomly and freak out my friends! I even had a comic book floor in my dinning room (I glued them to the old lino tiles then varnished over the top). It lasted about a year before looking a bit rough, so removed them and tried it again on my wooden stairs, which lasted much better. Luckily the land lord didn't mind...
On a non toy related note, other things I do with my time are badge, jewellery and purse making, photography and web design (all of which you can view on my Powder Monki website) and I have a huge interest in genealogy, which you can find out more about on my Tracing Ghosts website. When I'm not working on my own projects I work in a Shoe Repair shop. I love all kinds of music (1970's Exotica is a favourite), sci-fi and fantasy on tv, reading, hamsters and my lovely boyfriend Jamie (who's glad I don't comb toys hair with his brush anymore)!
Handmade badges, bags, cards, purses, web design, photography and much more!

My family history and genealogical research (for hire).

For Sale
Sponsored Links
Check out my TOY SALES on eBay!