"Shake me - I giggle!"
SnuggleBumms were produced by Playskool in 1984 and MB from 1985. They were a series of funny, squat little characters with long furry backs for brushing. Baby Snugglebumms giggled when shook, and the adults lit up when hugged. There were also pets, bugs, miniatures and puzzles.
They were sold in the UK and other parts of Europe under varying names (none of which really mean anything!):
UK, US & Italy: SnuggleBumms
France: Les Bum-Bum
Germany: Knuffelbunt
Holland: TroelieWoelies
Images on this page thanks to Tina, Ruth or found on eBay
, with thanks to various sellers!
Find SnuggleBumms on eBay.com
or eBay.co.uk
!
The Snugglebumm Family
"A huggable, snuggable family of furry creatures! Each one has a funny, sunny personality with lots of love to give. They adore having their hair brushed and styled by a friendly child. But most of all they love to snuggle. Each Snugglebumms doll includes a colour coordinated brush and a 16 page, full-colour story booklet."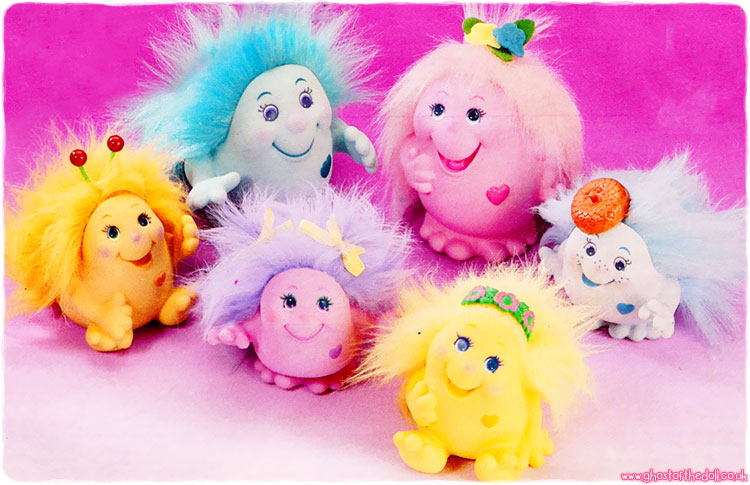 Babies
"A gentle hug makes us giggle."
Baby Snugglebumms had plastic bodies, brushable, fur-like hair and a "giggler/tweeter" inside which made a noise when shook. They were about 4-1/2 inches high and each came with a comb and either a hat or hairband with feelers on. They also came with a little storybook which told you all about the Snugglebumms.
There were nine babies produced using four different poses. The original Playskool packaging shows only eight characters (as can be seen left - Cutely being the missing one). It would be interesting to know if she was produced by Playskool, or only by MB.
| | |
| --- | --- |
| | |
| Fondly | Lightly |
| | |
| --- | --- |
| | |
| Happily | Spritely |
I don't know Happily's brush colour.
| | |
| --- | --- |
| | |
| Shyly | Warmly |
Variations / Unknowns
The image below is of a baby Snugglebumm in Shyly's colours but made in a completely unique mould. Variations of hair colour may simply be due to the fact that their hair was very easy to remove, so could be swapped over from one Snugglebumm to another.
For Sale
Find SnuggleBumms on eBay.com
or eBay.co.uk
!
Comments