Baby Pick Me Up
"Pick me up and I talk and giggle!"
Baby Pick Me Up were produced by DSI in 1997. They were a small line of 14 inch dolls which spoke and giggled when picked up. They caused come controversy because the doll had to be gently shaken to cause it to giggle, at a time when shaken baby syndrome was much in the news.
[eBay links are sponsored]
Images on this page thanks to eBay sellers d75lvp, tcagrading, warriormars and timberncustard!
Dolls
"Little girls will love this electronic talking doll. She is beautiful and has long pretty hair that you can comb and style. She comes with an adorable hat and removebable denim dress for hours of dressing play"
There were four dolls produced; blond, brunette, red and black haired. Each doll came fully dressed with removable clothing and hat, plus a comb. The dolls had soft bodies and plastic heads and hands.
When you liftted Baby Pick Me Up she said "Pick Me Up Mommy!", lift her over your head and she giggled, then when you put her down she said "Do It Again!" and "I Love You!".
Dolls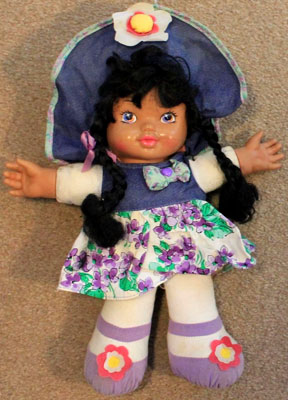 Black Hair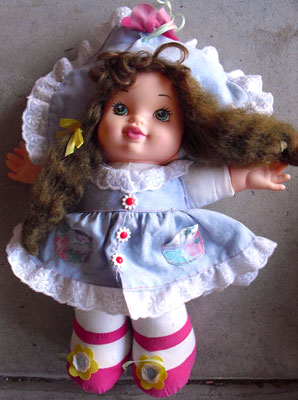 Brown Hair
Red Hair
Blond Hair
Packaging
Front
Side
Back
For Sale