Magic Nursery Pets :: Original
"Is it a bear, bunny, kitty or puppy?"
Magic Nursery Pets were part of a larger series of toys (mainly doll and their accessories) and were produced by Mattel in the late 1980's to early 1990's. They were 10 inches high plush animals with vinyl faces and belly buttons. They had a star in each eye and a heart on their nose with a star in it. When first bought, their identity was secret - was it a Kitty, Bunny or Bear? Their ears were tucked into their head and pulled out like magic to reveal their true identity.
[eBay links are sponsored]
Images on this page thanks to Nhtpirate, Jana, Nile Perch and various eBay sellers!
Original
"Each pet holds lots of different surprises! Magic disappearing vest reveals a surprise "Pet-agree" card for a Bear, Bunny, Kitty or Puppy! There are more surprises in discovering the adorable ears and tail. Pets may even turn out to be part of an extra-special litter" Each pet comes with a Magic Nursery surprise T-shirt, pet ID bracelet, and matching child-size bracelet too. The heart on each sweet pet's nose becomes a star with the warmth of a kiss! Includes a cloth diaper, bottle, and Pet Care Book with fun activities and invitations for a Pet Show!"
"Some pets are part of a litter! Lucky girs will receive two more pets by mail... free!"
"Pull bows to reveal adorable short or long ears."
"Find the fuzzy tail!"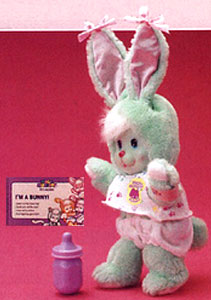 "Is it a bear, bunny, kitty or puppy?"
"Disolve Magic Nursery vest in water. Pet-agree card announces breed of pet."
"Heart on pet's nose becomes a star with the warmth of a mommy's kiss!"
The original series, dated 1990, had plush bodies and tails with colour matching soft tummies, white plush paws and satiny fabric in their ears which were topped with polka dot bows. They were dressed in a paw patterned t-shirt & nappy and came with a bottle, sticker and baby bracelet (around arm).
There were four colours in this series - peach, light pink, green and purple-fuchsia. There were also four animal types produced - bear, bunny, kitten and puppy. Bears and kittens had similar shaped ears, but the bears were much more rounded. The same with the bunnies and puppies, the bunnies being much more pointed at the tips. They had stars on their noses and in their eyes.
Peach Pets
| | | | | |
| --- | --- | --- | --- | --- |
| | | | | |
| Bear | Bunny | Kitten | Puppy | Packaging |
Green Pets
Pink Pets
Purple-Fuchsia Pets
Details
An interesting detail, there appears to have been two styles of belly buttons and eyes produced. The ones pictured below are from two peach bunnies (identical in every other way) so perhaps they were all produced with the different belly buttons and eyes?
| | | | |
| --- | --- | --- | --- |
| | | | |
| "Outie" Belly Button | "Innie" Belly Button | Blue Eyelid | Pink Eyelid |
For Sale