Pretty Crazy Curls :: Pets
"Magically style straight hair into twirly curls in just minutes!"
Pretty Crazy Curls was produced by Playmates in 1997-98 and comprised of two large poseable dolls, plus a pony and a puppy, all with long styleable hair.
[eBay links are sponsored]
Images on this page thanks to Miss Leonie, dreamy_melmel and eBay seller thelogo!
Pets
"Hair play PLUS adorable animals! An unbeatable combination! Includes Pet with flowing hair and hair accessories, rollers, and spritzer/comb! Pets want to look pretty, too! Now little girls can become high-fashion hair-stylists for a perky puppy or a peppy pony! The Magic Curlers change puppy's or pony's hair from straight to twirly curly in just minutes! Curlers work on little girls' hair too! All it takes is a spritz of mist and a twist of the Magic Curlers. Voila! Oodles of crazy, wavy curls! Lots of cool accessories help create lots of glamorous looks."
There was two pets produced (a puppy and a pony), measuring about 7 inches. They came with hair rollers, comb, spritz bottle and hair clips.
Curly the Puppy
Lucky the Pony
Packaging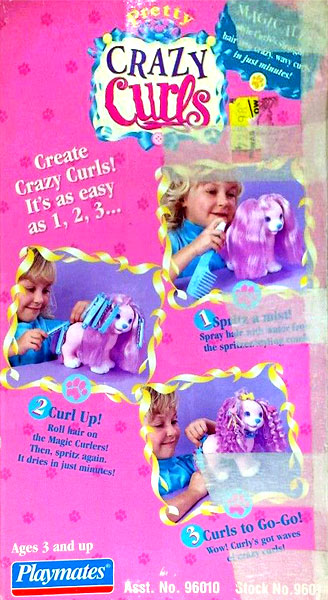 Publicity
For Sale