Punzels :: Pets
"The coolest pets with the longest locks!"
Punzels were produced by Vivid Imaginations in 2007 and were a shortlived, colourful series of seated creatures with very long hair. They were released in the UK by Vivid and parts of Europe by Famosa.
[eBay links are sponsored]
Images on this page thanks to Photobucket user Gaspode38, various todocoleccion sellers, and eBay seller huk4525!
Pets
"Create fun salon styles!"
There were ten pets produced. Six were sold individually with stand, brush and three hair clips, plus one single and one twin pack sold with hair braider and accessory pack, and one pet sold with a styling salon playset.
"The Punzels are the coolest pets with the longest locks! This season's look is rainbow - big, bold, beautiful colours, perfect for making the ultimate hair style statement! Comes with 3 cool rainbow hair clips, a brush and a stylin' stand."
They were all part of the "Rainbow Collection", which hints at plans to expand the line if it had been successful.
Bonnie
Publicity shot and UK packaging.
UK back packaging showed all six individual Punzels and the playset.
Gracie
Publicity shot and UK packaging.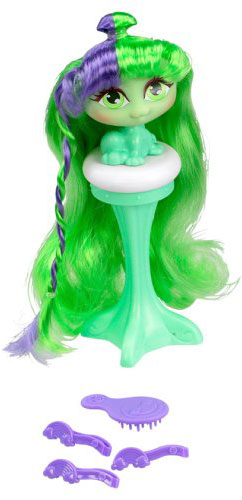 Spanish packaging front and UK packaging back.
Penny
Publicity shot and UK packaging.
Rhianna
Publicity shot and UK packaging.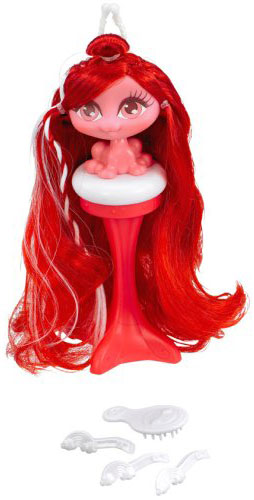 Viola
Publicity shot.

Yannah
Publicity shot and Spanish back packaging. Spanish back packaging showed all six individual Punzels, the playset and individual hair braider set (c/w Winona). The twin pack hair braider set was not shown.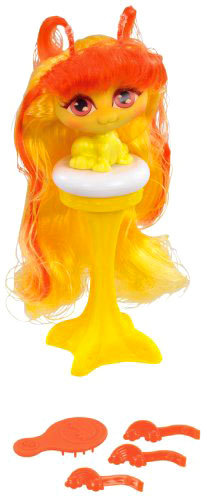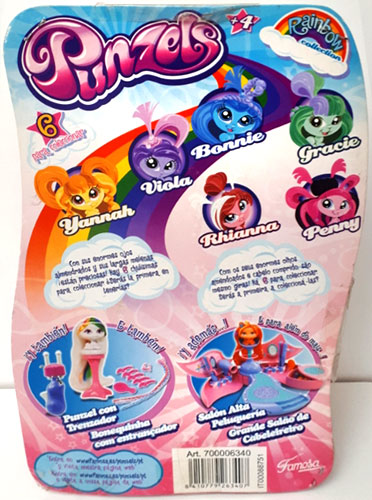 Spanish packaging (left) and UK packaging (right).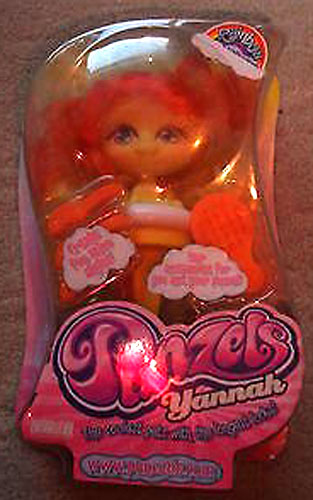 Pets With Hair Braiders
There was one single pack and one twin pack produced with hair braiders..
Winona
UK packaging.
Willow & Wiki
"The rainbow twins, Willow and Wiki just love hair stylin' and with their super cool braider they can create even more funky looks! Includes ring for you or your Punzel to wear, 5 hair clips, a styling stand and a gorgeous hair extension piece!"
UK packaging.
Playsets
There was one playset produced.
Super Styling Salon
"The ultimate super styling salon with exclusive Orella Punzel. Orella comes with magic colour change hair. Wash Orella's hair in the working sink, then get styling with tongs, straighteners and much more! When Orella's super styled pop her on the end of the catwalk and spin her around to show off your cool looks! Includes mini foils, rollers, share wear ring, hair extension piece, share wear hair clips and loads more!"
It came with twenty accessories and came with its own orange coloured pet called Orella.
UK packaging.
Only Winona was not shown on the back packaging.
For Sale