Defenders Of The Earth
"Our duty is clear, the time is now, fate has decreed that we are Defenders Of The Earth!"
Defenders Of The Earth were produced by Galoob in 1986 and were action figures and vehicles based on the 1985 cartoon series of the same name. The show itself was based on various 1950's science fiction TV characters, including Flash Gordon, Mandrake the Magician, the Phantom and Ming the Merciless.
This page contains catalogue images only, not a complete list of toys.
[eBay links are sponsored]
Images on this page thanks to Galoob & Pranceatron!
Galoob Catalogue 1986
"The Emperor Ming, the evil ruler of the planet Mongo, plans to enslave the people of earth. He has created an army of ice robots to storm the planet. They are led by Garax, the most diabolical robot in the universe. Only Flash Gordon and the Defenders of the Earth stand in their way. Can Earth's legendary space man and his friends foil Ming's devious plan?"
"Defenders of the Earth is the hot new licensed property for 1986. Flash Gordon, Mandrake the Magician and the Phantom pitted against Ming the Merciless are all feature players in this action packed adventure, space fantasy. The stars of this exciting new show are the characters who pioneered action and adventure series on TV 35 years ago; these characters are familiar to millions of people today and the Defenders of the Earth series will give a nation of fans the chance to share the exploits of these heroes with a whole new generation. In anticipation of this exciting television series, we have developed lifelike action figures that maintain the exact look of the TV heroes. Each of the six figures is fully articulated. We have also made toy reproductions of the vehicles used by our heroes in space. The helicopters and Swordships are taken directly from the series and are unique and exciting in design and function. As you see the exciting photos of this new product line, bear in mind that they represent vehicles from an exciting new television series . . . Defenders of the Earth!"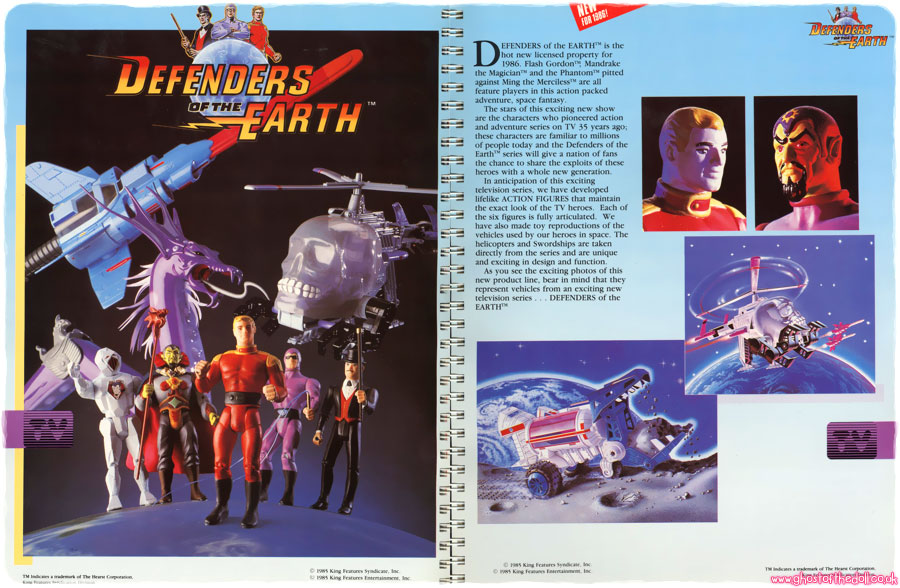 Figures
Claw Copter & Skull Copter
Garax Swordship & Flash Swordship
Mongor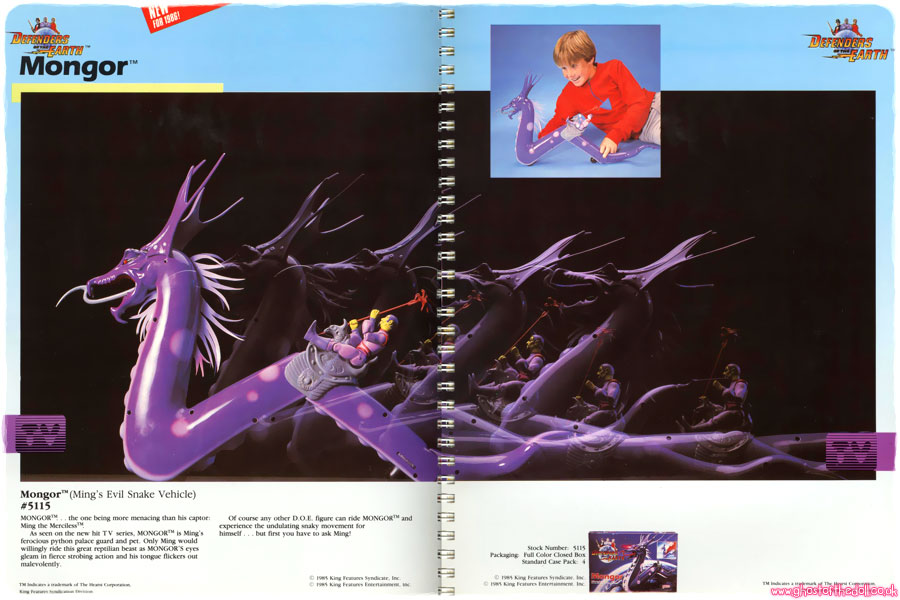 Gripjaw
For Sale