Super Naturals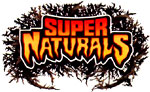 "Release their hologram powers!"
Super Naturals were produced by Tonka from 1987. This page contains catalogue images only, not a complete list of toys.
[eBay links are sponsored]
Images on this page thanks to Tonka & Orangeslime!
Tonka Catalogue 1987
"For centuries the Tomb of Doom remained sealed. Its location was long forgotten, as were the horrors that it contained. Recently it was rediscovered and its seal was broken. The spirits that it contained were unleashed upon the earth. Thus begins the battle of the Super Naturals."
Ghost Warriors
Ghostlings
Playset and Vehicles
For Sale