Dream Garden :: Playsets
"Sweet, unique and fun to collect!"
Dream Garden were produced by Trendmasters from 1997-98. They were a series of musical plant pot playsets with little scented babies and animal nannies. There were also several soft babies and and a few pets.
[eBay links are sponsored]
Images on this page thanks to various eBay sellers including cwcobco, melody1981*123, and joboxy! Some images were found on Worthpoint with no sellers name included, so if any of these images are yours please contact me so I can add your name/link here.
Rock-a-Byes
There were two "Rock-a-Byes" playsets produced, and two versions of each set. They were dated 1997. The large fruit was also a necklace, and the pots played music and giggling baby sounds.
Each set came with 3 babies and a nanny, 3 bottles, 2 swings and a fruit necklace.
Lemon Drop
"Rock-A-Bye babies drift off to dreamland in the Dream Garden Rock-A-Cye playset! Magical _ and swaying lulls babies to sleep in the enchanted garden! Discover 3 lemon scented babies and their nanny!"
This playset was produced with a yellow flower and a pink flower.
The back packaging was the same for both versions.
There were two different nannies, shared between the four sets.
Tangerine
This playset was produced with an orange flower and a blue flower.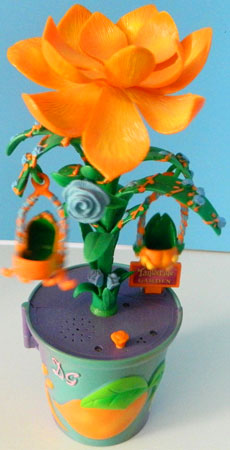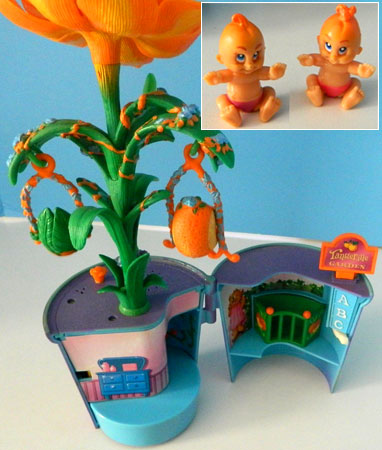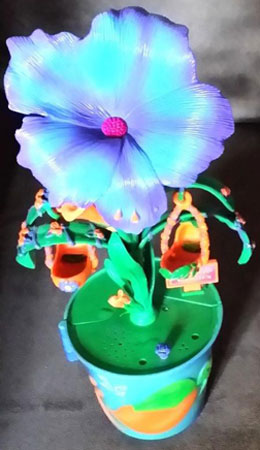 For Sale